Humboldt bus crash reminds us how fast private grief becomes public property
gregfelton.com
(May, 11, 2018)
On April 6, just north of Tisdale, Sask., at the junction of Hwys 35 and 335, a westbound truck slammed into a bus carrying the Humboldt Broncos junior hockey team. The collision claimed the lives of 16 team members and injured 13 others. As expected, this disaster became national news, moving Canadians to express condolences and show commiseration through memorials and contributions to the Humboldt Broncos GoFundMe webpage. Given the magnitude of the calamity, this story was expected to stay newsworthy for a few days but then fade away. However, the Humboldt Broncos crash became public property, as Canadians from all over decided that they were also emotionally invested in this loss of life.
Some residents in the Eastern Ontario town of Mississippi Mills, for example, were irate that the mayor refused to lower the town's flags to half-staff as other cities had done, and so took it upon themselves to do so. "We're finally getting it right," said resident Kevin McCartney. "But it's the people who are getting it right, not the government." In fact, McCartney was quite wrong. Flag lowerings cannot be the result of petulant displays of emotion. As Mayor Shaun McLaughlin explained:
"The flag policy—which the mayor cannot arbitrarily change—exists so that we have scope. If not, how would we know what calamities to respond to? The day after the Saskatchewan catastrophe, 23 schoolchildren died in a bus crash in India. Should we lower the flag for them?"
As if to underscore McLaughlin's point, 17 days later in Toronto a white van was driven into a crowd of pedestrians, killing 10 and injuring 15. There has been no call for flags to be lowered. The loss of life is a private matter for the bereaved; it is none of anybody else's damned business, and it is insincere to pretend otherwise. Nevertheless, Global TV broadcast live coverage of the vigil for the Humboldt Broncos, which some could interpret as grief voyeurism because it had no news value.
One could argue that the Humboldt community lost control of its narrative once the grieving became a cause célèbre. As has happened in the wake of other acts of violence, it got its own "strong" Twitter hashtag. The habit of attaching "strong" to the end of a scene of violence has become an irritating cliché. It became trendy ever since the 2013 Boston Marathon bombing (#BostonStrong) despite the fact that "the bombing" was a hoax performed by crisis actors that did not kill or wound anyone. "Strong" is a mawkish attempt at bravado that smacks of propaganda more than pathos since the connection of strength to a massive loss of life is conceptually perverse. I wonder if the Humboldt families feel the crash made them "strong" or believe that some Twitter twit had the right to tell them how to feel. How about the families of the Toronto van attack, who also got saddled with it?
Public ownership of the crash also extends to the business world. It is now almost the third  week of May, and the on-air talent on Rogers Sportsnet are still sporting green-and-yellow Humboldt Broncos sympathy ribbons. Wearing them for a day or two in immediate reaction to the crash could be defended because of its magnitude and because it affected the sporting world, but it has now taken on a ridiculous permanence.
The decision not to remove the ribbon after a respectable period of mourning was obviously a management decision; after all, no presenter could refuse to wear it since its absence would be conspicuous and possibly lead to unfair insinuations about his or her compassion for the victims. The result is that there is no honest, sympathetic connection between the wearer and the cause, which makes its perpetuation morally empty, though perhaps it does do something to portray Rogers as a compassionate corporation.
On the other side of the screen, why should viewers have to be forcibly reminded of the Broncos crash every time they see a beribboned Rogers host or hostess? The crash is old news, and repeatedly having to deal with old news is as irritating and intrusive as a pop-up ad, only this one can't be closed.
Another example of in-your-face Humboldt self-promotion comes courtesy of Sobeys Inc., Canada's second-largest supermarket conglomerate. Recently, I went to my local (Sobeys-owned) Safeway and was faced with a Humboldt Broncos poster on both the "in" and "out" doors. When I asked store management why they were up, I was told it wasn't the store's decision. I later found out the directive came from Sobeys's department of sponsorships and promotions, which is dedicated to burnishing and promoting the corporate image.
To some extent, the poster begs allusion to the "Let's Talk" propaganda posters in Bell Canada's campaign to promote its communications network by co-opting mental health issues. In this case, Sobeys co-opts the grief of the bereaved families for image enhancement. This is the only conclusion that can be drawn since the poster displays a singular lack of compassion. Somebody who did not known what had happened could easily mistake it for cheerleading, as if Sobeys had a stake in the outcome of the Saskatchewan Junior Hockey League. ("C'mon Broncos! We stand beside you! You're strong! You can do it!")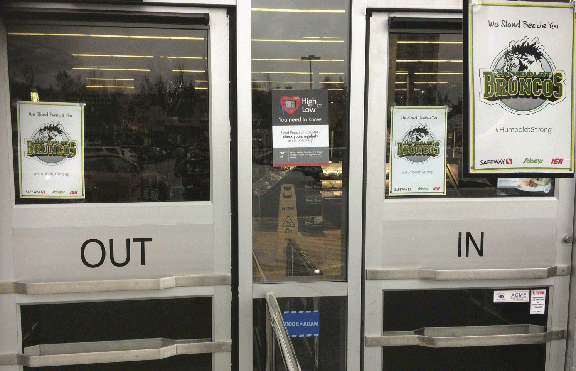 Safeway gets shoppers coming and going with its Humboldt Broncos poster.
Sobeys says the poster is sign of "quiet support" for the families, but it is a fact of economics that no corporation does anything that doesn't put its own interests first. To begin with, the poster's slogan ("We Stand Beside You") is a platitude as inane than "We Feel Your Pain" or "We're Here For You" that cann only serve to enhance Sobeys's moral credentials.
"Stand beside" is usually associated with showing support for the victim of a political or military aggression, such as "We stand with Palestine (against Israel's illegal blockade of Gaza)" or "We stand with British Columbia (in its battle against the oilochracy in Ottawa and Edmonton)." In each case, the primary focus is the righteousness of the doer of the action ("We stand with…."). In this case it is Sobeys.
This conclusion gains further support from the three conspicuous supermarket logos at the bottom. If Sobeys wanted to show genuine altruism, it would have created a poster that had no corporate logos, made some reference to what happened, the anguish of the families and cut the "we" pronoun. It would have made the poster about the families, not itself.
Lost in all this unctuous moralizing is the question of whether the Humboldt Broncos families want Sobeys to "stand beside" them literally or figuratively, and what good it would do? Sobeys can't bring their loved ones back, so to all intents and purposes, the poster is gratuitous, irrelevant and self-serving.
Private grief should not be a marketing gimmick or an excuse to let one's emotions go berserk, but there will doubtless be more such displays. Our Age of Internet Gossip and prescribed morality will ensure that genuine emotion will become ever more superficial.